It is(was!) official(back in 2020); after 2 months of production, the 10 round magazines for the Ruger 99/44(discontinued) and 77/44 are finally available. Depending on the rate of ordering, we should be able to have them sent out within a day or two. Thank you for all your patience!
9/21/20
Some portion of magazine halves, dovetailed for further machining operations
9/22/20
Other magazine halves: some cut, some dovetailed; Also some magazine bottom inserts: 44mag finished pieces alongside partially-done 357mag pieces.
9/25/20 — back in action as of yesterday afternoon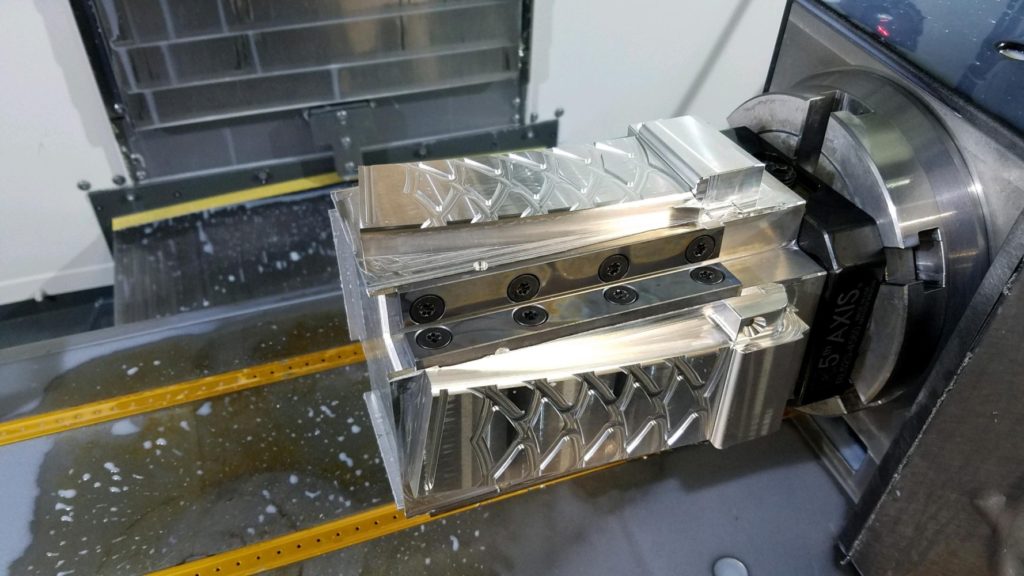 10/5/20 — Production Goal Update — It looks like there will be approx 240 of the 44Mag magazines, and 50 of the 77/357 Magazines. Yes, a bit less than our original thoughts & ideas. Production is still moving ahead, and parts are in progress.
10/12/20 — 44 Magazine bodies have finished 'step 1' for both halves, and the 357 Magazine bodies are right behind them(will both be done with 'step 1' tomorrow). Check out the size comparison, seen below…
11/12/20 — Both the 44 & 357 magazine bodies are with the anodizers this week, and they will likely be sending us batches of finished parts over the coming weeks. Other components are still in the works, such as the magazine feed lips, and the nose-pins.
The feed-lips are a machining pain, and take quite a bit of time, which is fair portion of our motivation when it comes to pursuing a cast-stainless-steel solution. That's still on the drawing board… In the mean time, the feed lips are 1/4 of the way to being finished for the 44Mag, and haven't yet begun for the 357.
The plastic 'followers' are were started yesterday, and will be all finished tomorrow — both for the 44, and the 357.
11/15/20 — Well, I gotta say that my prior estimations on when these magazines were going to be completed proved to be wrong. That was/is today… whoops. The machining & manufacturing is well underway for the final parts(hardened steel feed lips, which will still require black-oxide treatment), and we actually have received a portion of the magazine bodies back from Anodize. So, the new guess is basically 'prior to Thanksgiving'. Thank you for all your interest & enthusiasm..!
11/25/20 — Well, Day 1 of magazine assembly, testing, and sales has arrived…