Several months back, while I was developing some subsonic loads, I went to the local range for testing and ran into a very interesting older gentlemen, 80 years old to be exact, who was there to participate in a bench rest competition the very next day. As I was told, he traveled around the country in his motor home, which contained a very well equipped ammunition loading set up. Set in an obviously expensive front-rest and rear-bag contraption was an odd looking bench rest type firearm. As I was setting up to shoot my ammunition I glanced down range with my spotting scope to look at the target he had been shooting. His target consisted of roughly twenty or so small bullseyes. I am not a competition shooter so I have no idea what these guns and shooters are actually capable of. What I saw appeared to be twenty or so one-hole groups on his targets??? So we got to talking and I was asking him just how anyone can do such things with a gun and I got a real education from a seasoned benchrest shooter. Beyond the gun, ammunition, scope, bags, forends, stocks, and bagrider slick strips on the stock, he talked at length about recoil management. Now, he was shooting a 30BR cartridge with a muzzle velocity around 2800 feet per second and made no bones about the fact that the firearm moved BEFORE the bullet left the barrel. Due to that fact, it is critical to practice consistent recoil management to shoot the kind of groups he was shooting. There was apparently a point to all of the peculiar looking features I saw on his gun.
The gun is going to move before the bullet leaves the barrel and you're not going to stop it from doing so, although if you practice 'shot follow through', and control recoil in a consistent manner, you will shoot better groups.
So, that got me thinking, if a firearm moves before the bullet leaves the barrel traveling at 2800 fps what am I up against shooting a subsonic cartridge traveling at 1000fps? From that point on I really focused on the way I managed recoil during load development and testing. Now I am typically shooting bone stock rifles with the exception of an after market trigger and threaded barrel with a suppressor attached while testing our subsonic ammunition. I am trying to prove out my velocity consistency, bullet design (weight and shape) and how all this effects accuracy, ideally optimizing customer satisfaction.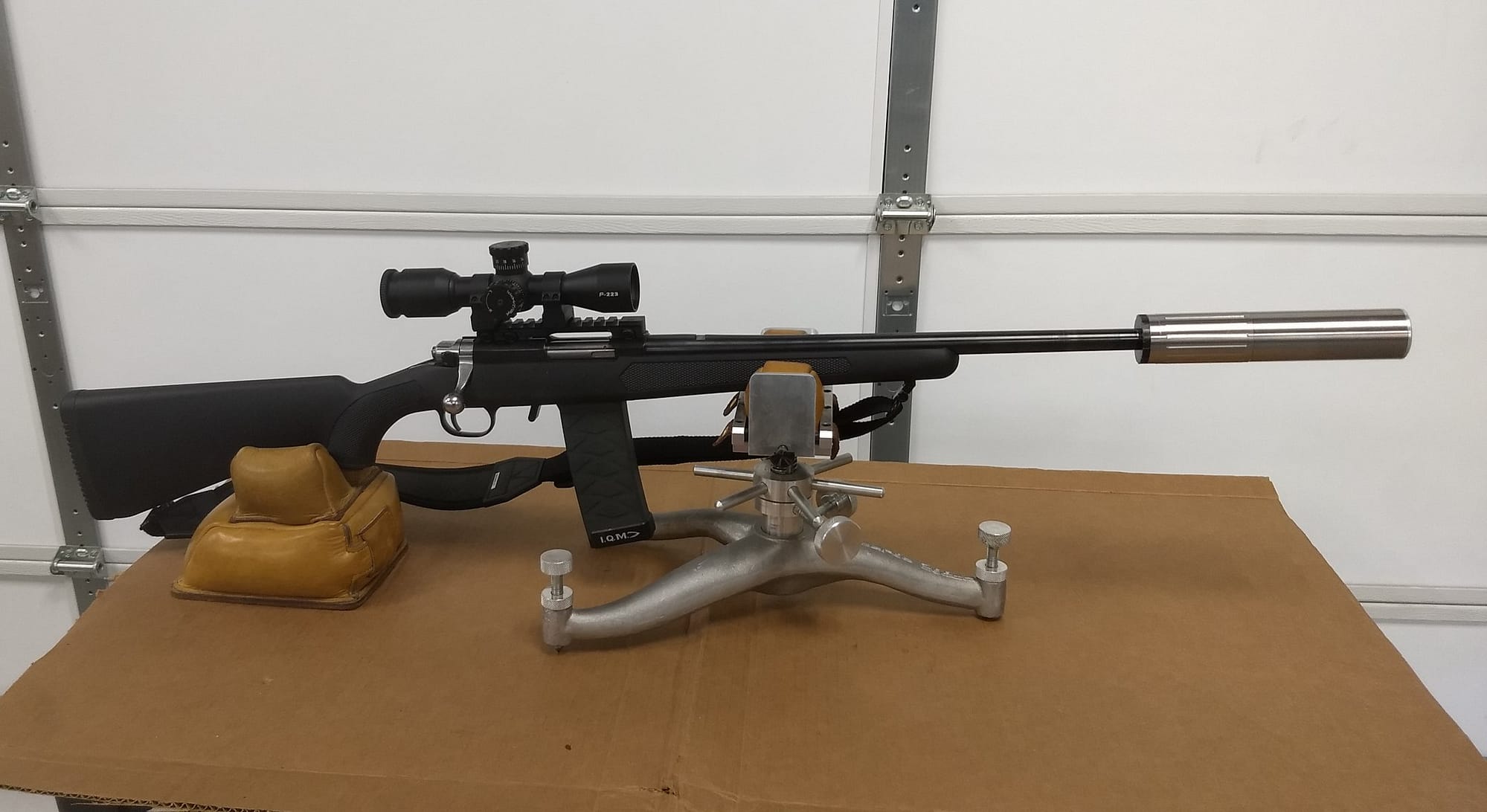 Yesterday, October 4th I took my own Ruger 77/44, a used gun I purchased (see attached photo) out to test a recently manufactured batch of our 400 grain subsonic ammo. I had installed a Rifle Basix aftermarket trigger, threaded the barrel and was using our sister company's (IQ Metals) suppressor. I had previously sighted the rifle in at 100 yards with a different lot of our subsonic ammunition. Now before I go into explaining the attached target and groupings I shot, I would like to elaborate on the recoil impulse generated by our .44 Magnum 400gr. subsonic ammo. The recoil from this subsonic ammo is akin to firing an AR15 rifle as far as felt recoil goes, fairly mild, with the exception that the muzzle wants to jump up and roll to the right. So consistent recoil management is crucial to shooting decent groups from the bench. The first round fired at the target hit nearly dead center of the bullseye. Not a bad way to start. The next 4 rounds hit 2 inches high and an inch to the right. Now I am using a front rest and a rear bag and holding the fore end of the rifle firmly into the front rest bag. At that point I decide to release my hold point on the guns fore end and let the fore end float in the front rest and move my hand back to the rifle butt stock for additional support back there. The next 5 shots exhibit vertical stringing with one flyer that was definitely my fault. Now I've got four rounds left in my magazine and I make a two click adjustment to the left on the Nikon P223 scope mounted on my gun. I go back to firmly seating the fore end of the rifle into the front rest with my left hand I fire the first of the last four rounds and see the bullet impact 2 inches high and directly above the bullseye through my spotting scope. I shoot 2 more rounds and can't determine where they landed. Firing the last round I know I pulled the shot without even looking through the spotting scope. As I approach the target I am pleasantly surprised to find that three bullets passed through virtually one hole. That says a lot about the accuracy potential of the Ruger 77/44 rifle, our own subsonic ammunition and the importance of consistent recoil management.